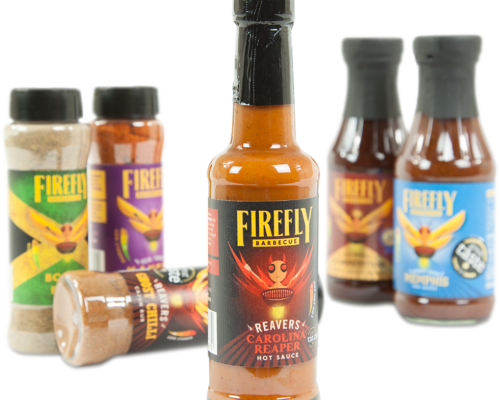 Digitally manufactured labels make perfect printed food labels. Consumers make their buying decisions based on previous experiences or are drawn to what catches their attention. In supermarkets, brands fight for premium shelf space and creating an eye-catching printed food label is almost as important as the product itself.
Regardless of how your food product is packaged, for example in a bag, box, pouch, tin, packet, or jar, (and the choice can be endless), it needs a food label. Not only to communicate the product and brand name to the consumer but to keep it compliant with food standards.
There is very clear legislation about what your printed food label needs to include. Typically, requirements include:
The name of the product
A list of ingredients
Warnings on consumptions
Allergens
Additives
The manufacturer
Country of origin
Depending on where your product is being sold, it is always best to check the rules and guidelines for the appropriate region.
Technical Specifications & Key Features
At CS Labels we utilise the best of digital print technology. Our dry toner is non-toxic and food-safe and delivers some of the most vibrant, attention-grabbing, informative labels on the market.
We also deliver solutions for labels that need to be used or stored in environments outside of the "norm", for example, labels suitable for freezer use. The last thing any brand needs is for their printed food label to crack, peel off or dissolve. CS Labels can offer solutions for the following:
A selection of materials including paper, white, silver or clear PP, PE or Kraft paper stocks
A selection of adhesives - standard, extra tacks and removable
A selection of finishes such as matt, gloss, textured varnishes and laminates
All printed food labels include nutritional values - it is the law after all! But this can be done in colourful and vibrant ways through the use of colours. At CS Labels, we print using CMYK which means that using full-colour isn't any more costly than printing in a standard black.
Printed Food Labels FAQ's
What if my label is only small, but I want to communicate lots of information?
Have you considered a peel and reveal label? There are multi-layered labels that peel back and display further information underneath the surface of the top design. It's a great way to include more information such as instructions, other languages and can even be used to communicate promotions or other products within a range! Speak to our Sales team to find out more!
Yes! Imagine yourself shopping and you pick up a food jar. The label is printed beautifully on a rich-feeling paper and it has been embellished with gold and silver foil. You know already that this jar is going to cost more than the other jars on the shelf, but it looks like it's worth it. That is how premium products use premium labelling to help consumers justify premium product prices. It's an investment and, when executed perfectly, it brings added value
Foiling - This is where a foil (there are endless colour choices available) are pressed into the design giving a luxury element.
Spot varnish - this is where a particular part or parts of a design are highlighted with a varnish to draw attention.
High-build varnish - This is where a clear varnish is built in a particular area giving texture and also draws attention to a specific area of the label
Textured varnish - This adds a texture; - it can feel a little less smooth, or rougher, depending on the varnish choice
Embossing - This is where a section of the design has pressure applied, lifting it slightly above the rest of the label area.