Another international printing industry magazine, we have been highly commended in the Small-Medium Enterprise (SME) of the year in 2015, so we are entering again this year, so watch this space!
Open to anyone and everyone in the graphic arts industry – from big businesses to students, these awards are voted for by the public – including our customers themselves, so these awards obviously mean a lot to us. We are extremely proud to have already taken the 'solutions for packaging award' with a landslide 54% of the votes and we are going to enter again this year.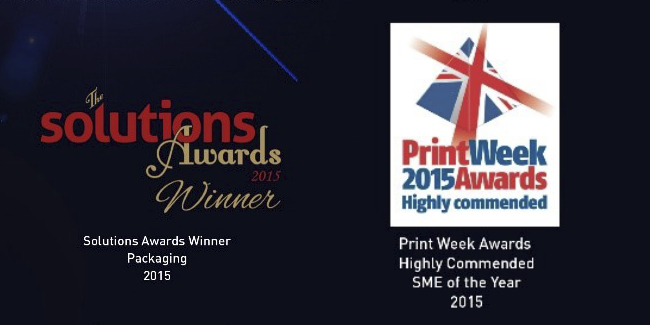 CS Labels at The Digital Print For Packaging Conference In Berlin
MD Simon Smith's diary was very full in 2015 with speaking engagements in the UK and as far as Australia and New Zealand!
In addition to the Digital Print for Brand Success conference in London in November 2015 he was also asked to speak at the Digital Print for Packaging Conference taking place in Berlin in December 2015.
In the company of Tesco, Mars, our client Twinings, and our suppliers Xeikon, he spoke about opportunities that digital print provides for the leading FMCG brands as well as artisan producers.
The conference hosted 150 international decision makers from the print and packaging supply chain and gives them the opportunity to unite and meet face-to-face with those leading the way across the value chain. It demonstrated how to utilise the technologies in order to reap the rewards digital print has to offer.
It also showed how digital labels have been incorporated into present and future packaging strategies; we know lots about this and we're excited to share our client success stories..... For example Simon talked about how leading snack delivery company Graze have embraced digital flexible pouches for their new sharing box range.
We were the first printing company in the world to print stand-up flexible pouches digitally and the work we have done for Graze has been nominated for several awards.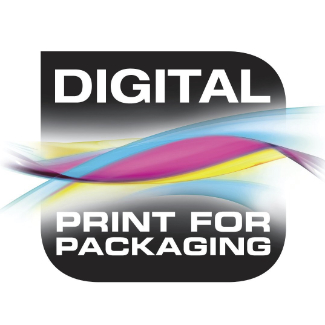 CS Labels Wins Printing Award for its Digital Flexible Stand-Up Pouches
Previously they said it was impossible... but now the groundbreaking digital flexible pouch work that CS Labels has produced for Graze snacks has scooped the coveted Innovations Prize at this year's Digital Printer Awards.
CS Labels today announced that the flexible stand-up pouches they produce for Graze snacks has won the award for Innovation at the 2015 Digital Printer Awards.
Managing Director Simon Smith said: "On behalf of the whole team, I'm really delighted to collect this award from Digital Printer. It is the second year we have won, but the first time we have won an award for our new flexible pouches product which we launched earlier this year.  We worked hard to push the boundaries of digital print yet again, and it has paid off. I have seen an unprecedented demand for the pouches in 2015 and this is set to continue into next year."
The pouches printed for Graze is a fascinating story. Printing stand-up pouches digitally is traditionally known as being very challenging. Graze asked CS if they could do it. In the face of adversity and against the advice of experts, CS Labels believed that stand-up pouches could be digitally printed on a Xeikon press, and spent 6-8 months testing and proofing the concept. They then launched a range of pouches on various substrates in February this year.
Production Director Adam James explains why Graze wanted digital: "Graze wanted digital technology because they had learned the unique benefits from the label work they already did with CS Labels. They knew the quality was up to scratch and would do their brand justice as well as actually adding value to it. They need multiple sorts (over 100) based on what their customers order and this fluctuates immensely based on trends and tastes. Short lead times are key and the idea of no stock was an attractive aspect. Order only what you need, and go – like the boxes themselves!"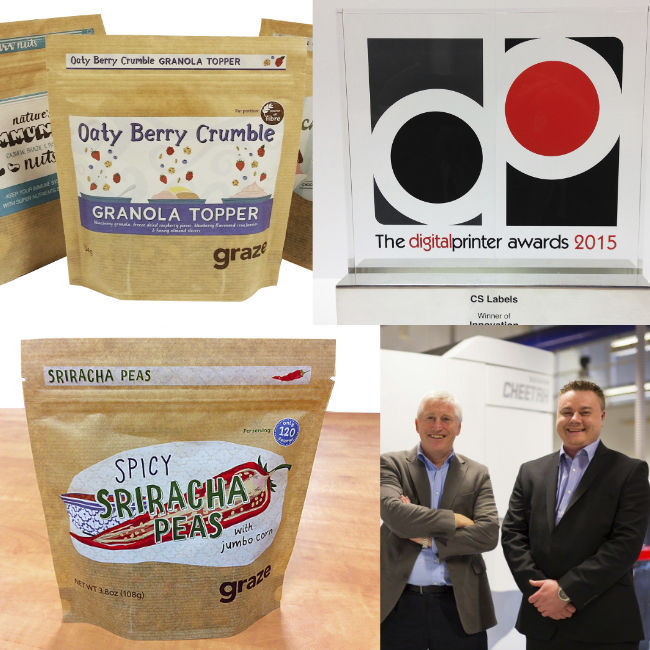 CS Labels Nominated For: Digital Heat Transfers, Stand-Up Pouches & High Quality Digital Labels
We won the Labels category award in 2014 , but since then we had expanded our reach into innovative heat transfers and stand-up pouches, so we decided to enter into the Innovations category in addition to the labels category.
We were nominated for the innovation award for
The stand-up pouches we produced for Graze, and our brand new Digital Heat Transfers that we produced for Reabrook.
We were nominated for the labels award for
The glorious custom digital labels we printed for Twinings Christmas Tea.
A little bit about our entries:
Graze already worked with us on the labels side, were impressed with the way that our digital labels could enhance their packaging as well as being quick and accurate. We have recently been the first printing company in the world to print stand-up flexible pouches on a digital press at a high quality, and so Graze asked us to work with them.
They need multiple sorts (over 100) based on what the customer orders and this fluctuates immensely based on trends and tastes. Short lead times are golden and the idea of no stock holding was an attractive aspect.
Reabrook were currently using screen printing on their aerosol lines which was very manually intensive, uses messy inks and quality wise is limited; After speaking with CS Labels Reabrook quickly realised that they could offer a competitive edge by switching from old school screen print to digitally printed heat transfers for their aerosol lines.
We worked with leading company brandopus who have helped Twinings increase sales with some branding changes. We helped them to optimise their artwork for digital presses, and also use colour logic technology which enabled them to pick out key elements such as the snowflakes and stars you can see on the design. The technology really makes these elements stand out creating a very attractive looking product.
Our flexible packaging scoops the Digital Printer Awards
Recently we won the Digital Printer Award for Innovation for our work on Graze's flexible packaging.
Digital Labels and Packaging Magazine, who organised the award, sent Sean Smyth along to our HQ for an interview and overview of what makes us stand out from the crowd.
He quizzed us about our work on flexible packaging, as well as other areas such as our laser Flexible cutting and other new digital packaging innovations.
Stand up pouches help Graze to diversify
We attended and entered the Solutions Awards last month and we we're ecstatic to win the people's vote on our work on the Graze stand-up pouches.
The Solutions Awards produced a very interesting write up about how we helped the snack leader to excel at their new business venture.
Graze is an interesting company and they have over 100 different sorts of stand-up pouches which are based on customer requirements – they are awesome at being able to give the consumer exactly what they need; reducing stock holding and helping the environment with minimal waste.