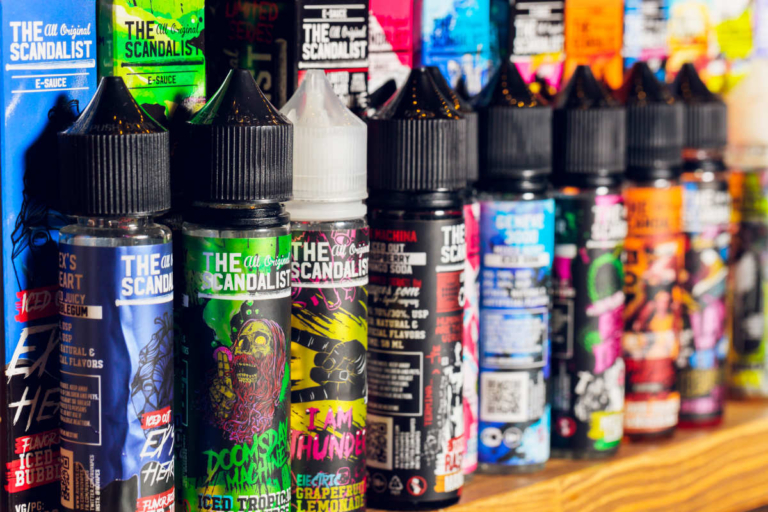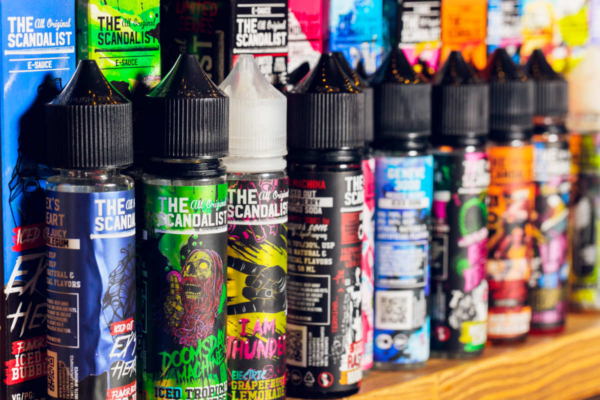 There's no denying that the vape product market is rising in popularity and so too is the need for manufacturers to make their products stand out from the crowd.
Aside from creating aromatic flavours that vape users will enjoy, the labelling used on each product is an excellent way for vape product manufacturers to attract their target audience.
CS Labels is an active supplier to the vaping community. We produce e-liquid labels that ensure your vape product brand conforms to all relevant e-cigarette labelling requirements thanks to our tailored TPD compliant labels.
Whether it's a smartly designed regular self-adhesive label, a layered peel and reveal label, CS can cater for all of your needs and to ensure that you are on the right side of the law.
Stand out from the Crowd with your Vape Label
As a vape juice manufacturer, you want to ensure that your bottles stand out from those of your competitors. You have a small surface area to work with, so it's crucial you choose the right combination of design, style, and label material for your brand.
Here are some of the ways CS Labels can help you add a premium finish to your vape bottle labels:
Labels That Feel Great And Send The Right Message
Did you know that we offer several different label types for your label design? While the conventional self-adhesive labels are a popular choice, you could further customise your vape product packaging with other label types, such as layered peel and reveal labels.
Premium Label Finishes To Enhance Your Brand
Another way to add unique customisation to your vape product labels is by taking advantage of some of the many label finishes that we offer at CS Labels.
For example, you could opt for embellishments, embossing and debossing, spot and raised varnishes, foiling, or a unique combination of those enhancements.
Use additional surface space to promote your brand, social media and website!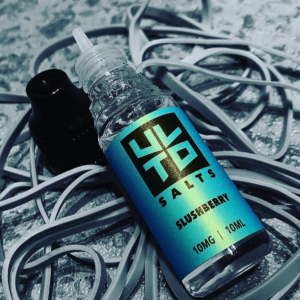 The Importance of TPD Compliant Labels
As a label manufacturer, CS Labels gives creative freedom to all clients for their vape product labels. However, vape juice brands that are new to the market need to know that there are certain legal requirements when it comes to labelling vape products.
In a nutshell, new vape products must comply with specific rules if brands wish to sell into UK and EU markets. For example, tactile health warnings must appear on all labels, and the labelling must be TPD (Tobacco Products Directive)-compliant.
If you're unsure about TPD compliance and CLP (Classification, Labelling and Packaging) guidelines and rules, we can help you create TPD-compliant labels for your products.
How to create Unique Label Designs
If you're having trouble creating unique label designs that stand out from the crowd, here are some design tips to help you get started:
Don't crowd your designs with lots of unnecessary elements. If you're using graphic imagery, be sure that it does not clash with any text. 

Metallic labels and the use of bold colours can be an excellent way to grab a consumer's attention.

Keep your design and branding uniform across the bottle size range to avoid any confusion.
Depending on your vape product, may it be bottles of liquid or juice, the e-cigarette device, tanks or accessories, your label will most likely need to communicate some kind of instruction on a label. There are a multitude of material choices ranging from paper, kraft paper, Polypropylene (PP in white, clear or silver) or Polyethylene (PE), each with their own advantages depending on how you want your label to look.
If you're unsure about how to manage the content of your vape label, our experienced sales team can support and guide you to get the most out of your label design.
Our printing capabilities can also offer multiple versions of the same product – eg. different flavours and strengths of e-juice, on the same print run. This saves time and money.
We can advise you on overprinting with batch numbers and dates, or we can actually print this information for you automatically as part of your order.
We're one of the UK leaders in peel and reveal labels. These multi-layer labels can help you to fit lots of information on to the label, as well as looking great. We offer traditional layered peel and reveal labels or perhaps you could utilise our innovative wrap-style label option.
We're also able to print tactile warning triangle vape labels using our screen technology.
Get a Quote or Request a Sample
Whether you've got a specific design in mind or you want help creating the right look for your juice bottle labels, contact CS Labels today to get a quote for your needs.
Not necessarily, however, the peel and reveal option is a perfect way to add more information to your label without overcrowding. Consumers can peel to reveal more information which is handy for additional warnings and information as well as languages.
You may even want to use the peel and reveal label design for marketing purposes.
We are the UK market leader for multi-layer peel and reveal labels. Speak with our team today to discuss your requirements or request a sample.
Yes, we can have cutters made specifically to the desired shape and size to suit your vape juice bottles.