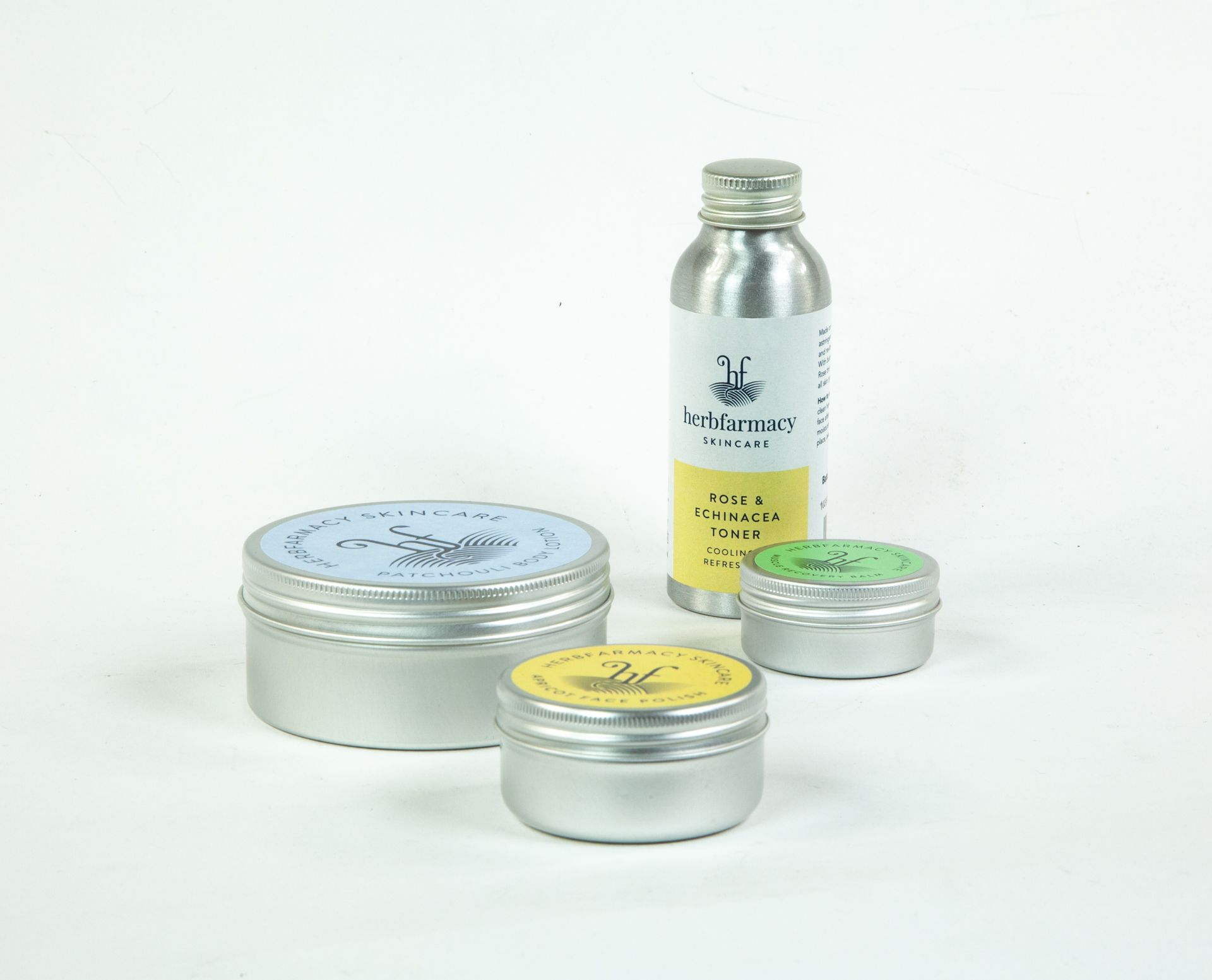 Health & Lifestyle Labels
Beauty and Cosmetic Labels
These beauty and cosmetic labels often include images and various font types and sizes. The way in which these products are presented is usually a reflection of the brand name, price point and also target customer.
Cast your mind back to the last time you were in the cosmetic section of a department store, supermarket or even a chemist. You'll have noticed that beauty and cosmetic products come in all sorts of shapes, sizes and styles. They're packaged in boxes, sleeves, flexible pouches, or some products stand alone, with all of the information about them printed on an attached label. Every single product will have a label which will represent the product and brand whilst communicating information on how to use or apply the contents.
Depending on your product branding, the price point it's sold at, the volume or scale in which it is distributed and of course how popular the brand or product is, each material type will have its own advantage, especially if you're trying to achieve something specific. For example, a skincare brand may opt for a more clean, clinical style housed in a small jar with crisp white labelling. Whilst a body scrub aimed at a younger market may be packaged in brightly coloured tubs with vibrant eye-catching labels.
Whether you are a brand owner or manufacturer, cosmetic label materials are a high priority. Choosing a suitable material can influence the brand. It also impacts the quality and usability of the product for customers. Typically, there are three options for cosmetic labelling materials.
The majority of brands and manufacturers choose either polypropylene, polyethylene or paper for their cosmetic products. Polypropylene is the most durable and versatile and offers greater resistance against oils and chemicals.
Polypropylene is the most popular option for thermoplastic cosmetic labels. Polypropylene is durable, strong, and water-resistant; and it offers great value for money. Polypropylene labels can also be used on outdoor products and with additional laminate are 100% waterproof.
Polypropylene labels are a useful alternative to vinyl labels for cosmetic products. Polypropylene is similar to vinyl in presentation, but it's cheaper overall. Customers can still benefit from high-quality branding and water resistance for cosmetics and a lower price.
Polyethylene is known for its remarkable flexibility properties and is utilised for the production of items that require frequent handling and compression, such as PE tubes and bottles. When it comes to labelling material for cosmetics, many prefer polyethylene over polypropylene for numerous reasons.
Polyethylene labels are generally more transparent. This transparency allows the consumer to easily see the product information, brand, and any other details printed on the label, enhancing the overall aesthetic appeal of the cosmetic product.
It also has better resistance to moisture and water compared to polypropylene. Cosmetics are often exposed to humid environments, such as bathrooms or travel destinations, where moisture can be present.
Polyethylene labels are less prone to warping, wrinkling, or deteriorating when exposed to moisture, ensuring that the label remains intact and readable. Cosmetics come in various shapes and sizes, including curved bottles, tubes, or even jars. The flexibility of a polyethylene label allows it to adhere well to different surface contours, ensuring a smooth and attractive label application.
While polyethylene offers these advantages, it's important to note that label material selection depends on various factors, including the specific requirements of the cosmetic product, branding considerations, regulatory compliance, and the desired visual appearance. Manufacturers should evaluate their specific needs before choosing the most suitable label material.
Paper labels for cosmetics can be used on some products, especially makeup with low proximity to water and moisture. Paper labels are relatively inexpensive; they are also versatile and biodegradable. The main downside of using paper labels is environmental deterioration.
Paper might not seem an obvious choice for a label, especially when the product is used in proximity to water. The last thing you want is for the branding to peel off or disintegrate. However, some products and brands - particularly vegan/eco-friendly brands consider paper a selling point.
When it comes to creating printed labels, there are three techniques commonly used: digital printing, flexography, and screen printing. Different products call for different printing methods, but overall, digital printing offers the fastest, most cost-effective way of creating quality labels.
Flexography is a form of printing similar to a traditional letterpress, but it uses a modern rotary to print on a wide variety of substrates. Screen printing is an effective way of making vibrant labels, but digital printing is a fast and cost-effective way to create cosmetic labels at scale for the market.
CS Labels offer both Xeikon Toner and HP Elctroink digitally printed options along with a durable UV inkjet option covering all digital print bases.
There are good reasons why digital printing is the first choice for a wide range of brands and manufacturers; it offers excellent flexibility, value, and convenience. Unlike other printing methods, digital printing does not require the use of printing plates and offers excellent value.
Using digital printing, brands benefit from batch numbering and dating to keep a run of products relevant to the market. Multiple variants can also be produced on short runs at low-cost thanks to the flexibility of digital technology. Embellishments like tonal metallics or Peel and Reveal can also be explored.
Incorportating Peel and Reveal Technology
There are good reasons why digital printing is the first choice for a wide range of brands and manufacturers; it offers excellent flexibility, value, and convenience. Unlike other printing methods, digital printing does not require the use of printing plates and offers excellent value.
Using digital printing, brands benefit from batch numbering and dating to keep a run of products relevant to the market. Multiple variants can also be produced on short runs at low-cost thanks to the flexibility of digital technology. Embellishments like tonal metallics or Peel and Reveal can also be explored.
The design of a label can determine the success of a product on the shelves and whether or not a customer becomes a devotee of the brand. Colours and patterns are used to catch the attention of consumers in stores, but the design also helps to conceptualise the brand image.
Effective brand labels can be created using digital printing methods. It's important you have the correct branding on the label along with the most relevant product information. Colour selection, typography, imagery, and brand uniformity, are all key factors to keep in mind.
The most effective brand labels grab the attention of the target audience and make an impression. It is, therefore, important to understand the target audience's demographics and desires when designing the labels. And knowing where the products are sold can be helpful.
Cosmetics products sold in the UK need to meet regulation standards. Since many of these products are also sold in Europe and USA, regional regulations must also be adhered to. Compliance requirements include labelling ingredients, warnings, claims, and usage guidance.
All cosmetic products be safe for human use; the product must also detail how to use the product safely on the label. Labelling information must align with the product's intended use. UK and EU regulations are the same, but products sold in the USA must adhere to FDA standards.
Along with adherence to regulations, cosmetic products must also have appropriate symbols on the labels to direct consumers and issue warnings. Some of the most common label symbols include shelf life, cruelty-free, net weight/volume, vegan friendly, and tactile warning triangles.
If you are unsure of what symbols to include on the product labels, you can find up-to-date guidance here. The majority of symbols for cosmetic labels are globally recognised and work for all markets. Remember, some of these symbols are mandatory, like tactile warning triangles.
Utilise Label Customisations To Create Impact
Presentation is key when it comes to beauty products. Imagine you're in a supermarket full of products without any labels; how will you know which are the right ones to buy, or what they contain? But labels are more than functional communication tools; the artwork is used to add product personality.
CS Labels offers a host of label embellishments to enhance the product, improve the brand and create better customer compatibility. Embellishments can include gold framing for the labels, textured lettering, peel-and-reveal, spot varnish and more. Give customers a reason to buy your brand of cosmetics.
Of course, supermarkets are not full of products without labels; quite the opposite, there are labels everywhere, so what makes one label stand out above all the rest? Think outside the box when it comes to designing and positioning the product competitively on the shelf for the best results.
It's important that your product label provides an excellent presentation, which is why so much time is spent on the design process. Label finishes can have an impact, but the size and shape of the label also need to be taken into consideration. 
Whether you need a wrap-around label for a cosmetic product or one that is star-shaped to align with the brand or product image, CS Labels can manufacture labels that deliver on key factors. The size and shape of labels are also determined by the product dimensions and can ultimately affect sales.
Customisations are an important part of the label design. Whilst often called embellishments in the label world, these are used to improve the branding and product packaging to make it stand out from the competition on the shelves. CS Labels offers a wide range of label embellishments to add a personalised touch to your cosmetic and beauty products.
Whether you want to make a product more unique in general or you want to add some value to it for a special campaign, customisations work well. Customisations are supplemental to the printing process; they can include foiling, embossing, debossing, and spot and raised varnishes.
Customisations include various embellishments as outlined above, along with alterations to the size and design of the label. When designing a customised label, it's best to consider the current trends in the marketplace and how to integrate the brand's message with any label regulations.
Customisations are a chance to take a basic label to the next level and refine it for a campaign, trend, or special offer. Remember, customisations are a chance to entice your target audience or expand the market for existing products. They're a simple way to modify product campaigns.
Beauty & Cosmetic Industry Trends (Post Covid)
The beauty and cosmetic industry changed suddenly in the wake of the recent pandemic. Cosmetic brands had to find online methods for customers to try products and change their products according to market trends. Customers switched from makeup to self-care products.
There are many trends in the cosmetics industry at the moment, but some of the leading ones include diversity and inclusion, subscription cosmetics, cosmetics with natural ingredients, and at-home treatments. CS Labels can work closely with your brand to ensure that it stays on-trend and ahead of the curve.
Again, understanding the market and preferences of the target audience is the key to creating a successful cosmetic product campaign that catches the cultural momentum. Whether it means creating an eye-catching label or incorporating the latest technology, CS Labels can help deliver.
Ready To Take Your Brand To The Next Level?
Discuss your labelling requirements with CS Labels to ensure labels are designed to expectations. Benefit from years of industry experience and expertise when it comes to professional labels and printing technologies for the cosmetic and beauty industry. Ensure products are perfectly positioned in the market - let's take your brand to the next level.
Beauty and Cosmetic Labels FAQ's
Beauty and cosmetic products come in different shapes, sizes, materials and in so many different environments, e.g., a tube of cream which might be carried in a handbag, a pot of powder in a makeup case, bottle of hair dye in the bathroom cabinet, packet of bath salts by the bathtub, tub of body scrub kept in the shower. So, deciding on label type has many things to consider from the design, shape and adhesive type to make sure it's durable.
It depends on your brand, budget and packaging type. All types of labels suit, single ply, peel and reveal and no-look clear labels are also very popular. Want something truly exceptional? Why not look at embellishments like foiling or raised varnishes? Our CS Signature range can support your product's premium price-point if the packaging attracts the right customer type.
CS can deliver what you need, and using real-life imagery is no problem, as we print everything in high-definition making models look exactly how you need them to. If you're not sure of what you need or what would be best, speak to one of our team who will guide you through the process.
Check out our gallery for examples of health & beauty labels.
We work with high-resolution PDF files.