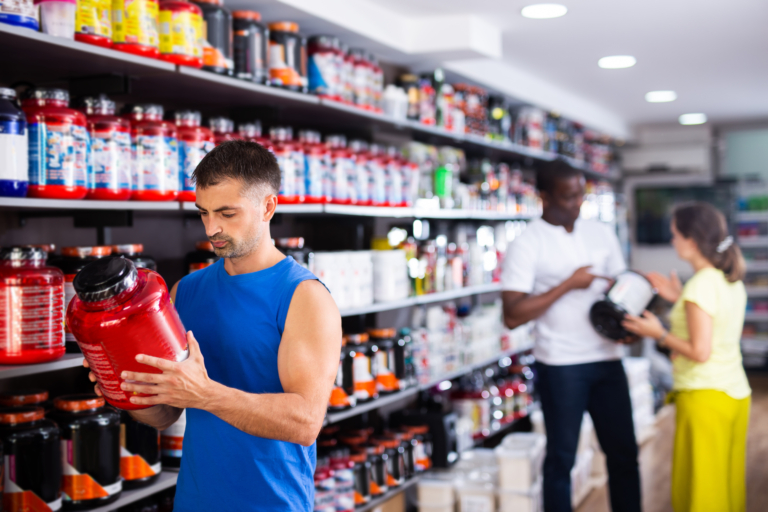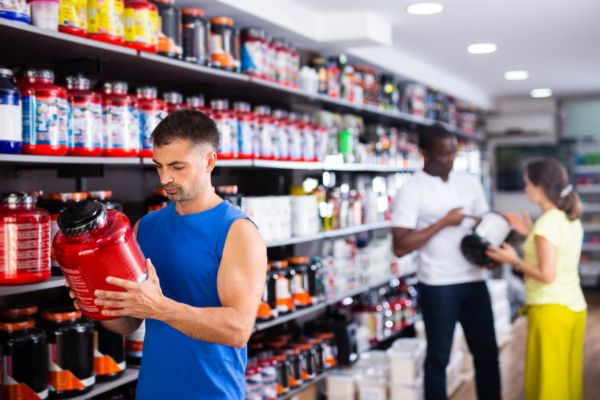 The sports nutrition market is wide and it's growing. Since 2020, the industry trends have changed rapidly and brands are working hard to keep up with demand.
But what is sports nutrition? In a nutshell, it's any type of supplement, additive, food replacement or diet product that specifically supports stamina or athletic ability. Usually very high in proteins, fats, and complex carbohydrates products are consumed to develop muscle mass and recovery. Products come in liquid form, powders, food-bars, supplement pills and gels, all of which of course require labelling.
Here at CS Labels, we understand that labelling for sports and nutrition products aren't just about the name and imagery. One thing that is consistent across all sports nutrition product labels is that they all need to be clear, cleanly printed and easy to read.
The Legal Side of Sports Nurition Labels
Consumers might think they're buying a healthy product when they go shopping because of the nutrition labelling.
Health experts tout protein as an ingredient that builds muscle and keeps us fuller for longer. However, on further inspection, these labels can be misleading. They may not provide athletes with the precise information they need to optimise their training schedules. Taking the wrong products may make it more difficult to gain a competitive edge and adequately fuel their bodies.
Currently, the health and wellness supplements industry is largely unregulated. The government sets out various labelling standards to which you must adhere to.
Your Sports Nutrition Label must include:
The Business name and address (including manufacturer if applicable).
The term "food supplement" (not "workout supplements" or "sports supplements").
The statement "not a substitute for a varied diet" is somewhere on the packaging.
How users should take the supplement, including recommended daily dosages.
A warning that users should not exceed recommended daily dosages.
A 'use by' or 'best before' date, if applicable.
Nutritional information, including the quantity of protein, carbs, fats, and micronutrients (vitamins and minerals).
A list of other ingredients, such as plant extracts or speciality blends (creatine, arginine, leucine and so on).
Instructions on safe storage.
You must include the label on the packaging itself, attached to the packaging by some mechanism (such as a tag), or make it visible through the packaging.
Legal requirements differ slightly between England, Wales and Northern Ireland, so you will need to check the precise requirements for your area.
How Sports Nutrition Brands grab attention with Labelling
Consumers can buy sports nutrition products in various formats. These include bottles of different sizes, boxes, tubs, and sachets.
Products may also be available in different flavours or ranges of different nutritional values. Either way, a digital label that provides all the requisite information is essential.
Bright, Bold & Powerful Colour Labels
Go into your local sports nutrition store. What do you see? Almost always, it's brightly-coloured tubs, designed to immediately grab your attention.
Label consideration is vital. When consumers pick premium products off the shelf, they often expect something with a wow factor such as raised surface varnish or foiled gold, telling them that they are buying something special.
To appeal to your audience, use bright colours. Vibrant tones communicate unconsciously that you offer a sports nutrition product, and create an immediate attraction.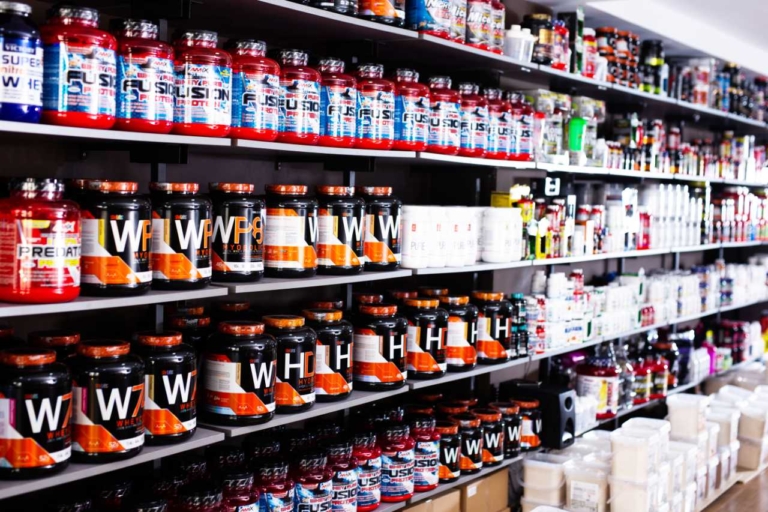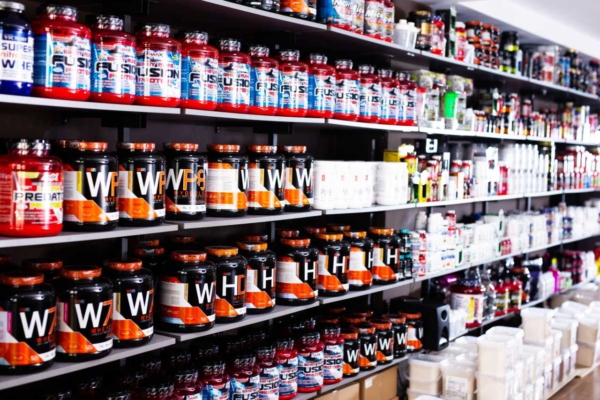 Red, yellow, green and orange and all good options. Special effects such as embossing and debossing can also have a positive effect on buying decisions, encouraging consumers to choose your products over your rivals'.
Stand out from the crowd with your Sports Nutrition Brand
Remember, when your product offers something visually different from your competitors, it encourages them to switch to you. It is important that these labels are printed clearly and professionally.
The appealing imagery isn't always a selling point, but it does grab attention. You'll notice this if you walk into a sports nutrition shop. Many packets and tubs display images of desirable body types, designed to create positive associations in buyers' minds.
You should also make the purpose of the product clear on the labelling so consumers know why they should choose it. Is your product for building muscle, losing fat, improving focus, toning up, increasing overall energy, reducing hunger or improving strength? The more targeted you can make the product, the better. For instance, if you sell a high-protein cereal for breakfast, make the point clear on the label or packaging.
You must remember, these labels might be the first introduction between a person and your brand. Make the right impression and get the best labels possible with CS Labels.
Being healthy doesn't end with looking after yourself, it also includes looking after the planet.
When protein tubs have been used, the empty containers can be repurposed for many different uses. From arts and crafts projects to storing other foods in them, the possibilities are endless.
You can use them for storing dried goods, pet food, toys, plastic bags, or even money. They also make great plant holders. This is because the tubs themselves come in many different shapes and sizes, and they are designed to be durable.
What is Sports Nutrition?
Athletic ability can be affected by the food that you eat, so anything that has been designed to support you on your fitness journey is considered part of sports nutrition.
These items can support your athleticism and endurance. High-quality protein powder products are key to helping maximise hypertrophy and help move you towards better athletic performance. Moreover, the consumption of protein-rich foods combined with various workout supplements may help people feel fuller for longer.
When receptors in your stomach become stretched, it makes you feel fuller. This results in fewer snacks throughout the day and more sensible portion sizes. In turn, this makes it easier for the body to regulate weight, returning to balance.
The supplements in question can contain very high amounts of protein, fats, or complex carbohydrates in order to develop muscle mass and aid with recovery.
However, if you want to be at your best, you need to consume a range of foods consistently throughout the day. All of these products come in a variety of forms, including liquid, powders, food bars, supplement pills, and gels. No matter what form they come in, they all require clear and concise labelling.
Why use CS Labels for Sports Nutrition Products?
Labelling of sports and nutrition products needs to go beyond mere visuals. Consumers – particularly athletes – must know precisely what they are putting into their bodies.
This can be achieved by having consistent and attractive labelling across all sports nutrition products and taking advantage of HD labels. Labels should be printed to a high standard, clearly describe the product, and be easy to read.
So, no matter what labelling product you need, CS Labels offers assistance. Whether your brand focuses on purity, scientific research or moody tones, our labels are ideal. Choose CS Labels and get the perfect labelling products you want, delivered consistently every time.
How Labelling Can Help You Sell Sports Nutrition Products
As a business in the sports nutrition industry, you need to sell sports nutrition products; however are you aware of the importance of labelling?
Understanding what you need to do as a brand to be able to provide effective sports nutrition will be essential if you want your product to be a success.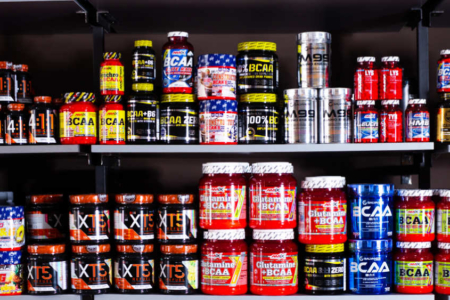 Sports Nutrition Labels FAQ's
Not at all. You might find sports nutrition products beneficial if you are working out more, or working towards a specific fitness goal.
Yes, this wraparound style is available as well as a peel and reveal label which can have multiple layers including text, imagery and also in full-colour.
It really depends on how you want your product to look. It's often a good idea to take your product and try and mock up the labelling in different ways, you may learn which style you prefer that way.
At CS there's no additional cost to print multiple designs in a single run. We don't use print plates, so even if your design were to change, there wouldn't be any cost to change what is being printed. Of course, you may find it more cost-effective to place an order for everything you need together, but if you speak to our CS Labels team, we can advise you either way.