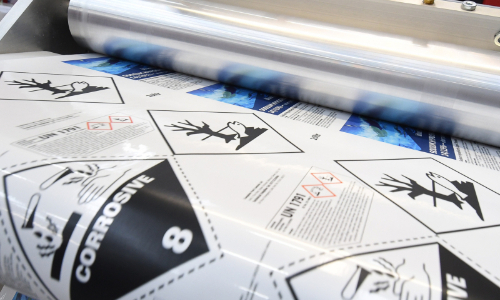 Retail and point of sale labels come in so many shapes, sizes and colours and can be manufactured using various materials, finishes and adhesives. They're used to communicate information, promote products, give instructions and every single label is working to capture a customer's attention!
Consumers make decisions about what products to buy within seconds of looking, so labelling your products or retail environments clearly and effectively is vitally important. Knowing who you want to target, what you want to say and what the desired outcome is should be at the top of the considerations when deciding on how your product will be labelled.
Promotional retail labels are brilliant for limited campaigns as they can both draw attention using a contrasting label size, colour, shape and even font, as well as encourage stock clearances making precious retail space for other brands or products.
In retail settings, communication is paramount, for example, retail labels may be used in the following forms:
Price labels
Instruction labels
Campaign and promotional labels, for example, 50% off labels
Postage or return labels
Sold labels
Barcode or asset labels
General product labels for example food & drink labels
Window stickers
Window stickers are used all the time in retail environments - they're a quick and easy way to communicate passers-by that there's a sale or new season available. They can be printed ingle or double-sided. Speak to our Sales team for more information.
Every type of label used in a retail environment will have its own construction (material, finish, shape, size and colour).
It's important to appreciate why different constructions are required for different applications. A bottle label on a shop shelf will be designed and made different to a window sticker or a price label.
Labels can be manufactured in the following materials:
White Polypropylene (PP)
Silver Polypropylene (PP)
Clear Polypropylene (PP)
White Polyethylene (PE)
Matt Paper
Polypropylene (PP) has more flexibility and durability than paper. Both material types can be varnished or laminated depending on its intended use. If you need a promotional label to be removable, there are special adhesives for this too!
If you need your labels on rolls, or cut on single sheets, that can also be delivered. Just let our sales team know!
Price labels, barcodes and special offers are usually promoted near cash registers to cash customer's attention. Communicating information clearly is really important, otherwise, customers might change their minds!
Since early 2020, labelling has been important in supporting and communicating information relating to the Covid-19 Pandemic. Labels were used to help with social distancing, refuse use of seats, doors, stairs etc. Floor labelling became commonplace advising people where to stand and how far they should be to others. Without labelling, it would have been almost impossible to manage so effectively.
Yes, depending on the adhesive on the label. Other adhesives will leave a residue when attempted to be peeled off.
Yes! Speak to us about laser cutting and read our cases study on Workflow Management.
Depending on how your labels are printed will change their suitability for food products, so it's always best to check with your manufacturer. CS Labels print using dry toner which is food-safe.
CS Labels also manufacture tags and shelf strips as well as window decals. Want to know more? Get in touch with one of the team today.
Discover the updated CS Labels Workflow Management Strategy – 2020