Co-founder James Webber took the plunge from an established, successful and international career in the Pet Food industry to create the JD Pet Food brand at the start of the Pandemic with business partner Domonic Brodrick. Based on their ethos of ethical and environmental values, they wanted to launch a product to market that was both tasty for pets and locally-sourced and sustainable as possible in terms of ingredients and packaging.
The recommendation came from JD's food manufacturer GA Petfood Partners. "They suggested CS Labels and from the get go I followed instinct which delivered!".
James Webber - JD Pet Foods
CS regularly works with both established brands as well as start-up companies and products. We appreciate the depth of investment in terms time, cost and foundations to a brands' reputation.
Packaging can be complicated. We get asked the following regularly:
What type of label do I need?
What is the difference between material types?
How important is the layout?
What legislation do I have to consider for my label?
What size label do I need?
The list of considerations is endless!
JD had a huge amount of support from their product manufacturer (GA Petfood Partners) and their design agency (Bristol-based 'Fanatic') from inception to delivery. The team at JD had both experience and a great understanding of the industry, but quickly had to develop awareness to the volume of considerations involved in launching a new brand. Thankfully with experienced teams around to support, the process was a really positive learning curve.
How Did CS Support You in That Learning Curve?
"Our account manager Leigh supported us with material selection. Recyclable materials were an important element to our product packaging but the industry offering is really limited. Working with the constraints of what is available, what is suitable, what gives good shelf life etc can be a real challenge. Ideals aren't always compatible with the reality of what is achievable, especially with recyclable materials. We learnt that some recyclable materials don't always delivery creditable packaging, especially for perishable products. We were sent a really great selection of samples and we took it from there."
James Webber - JD Pet Foods
"I wanted James to experience the options. Simply talking about materials and coatings will never compare to being able to touch and see how something will feel. After I understood what he was looking for, I sent him a selection of samples and then we chatted about what he liked, why, how it would work and why it would be suitable. It was really easy for James to get context and it's how we made the decision fairly quickly on the material type."
Leigh Coady - CS Labels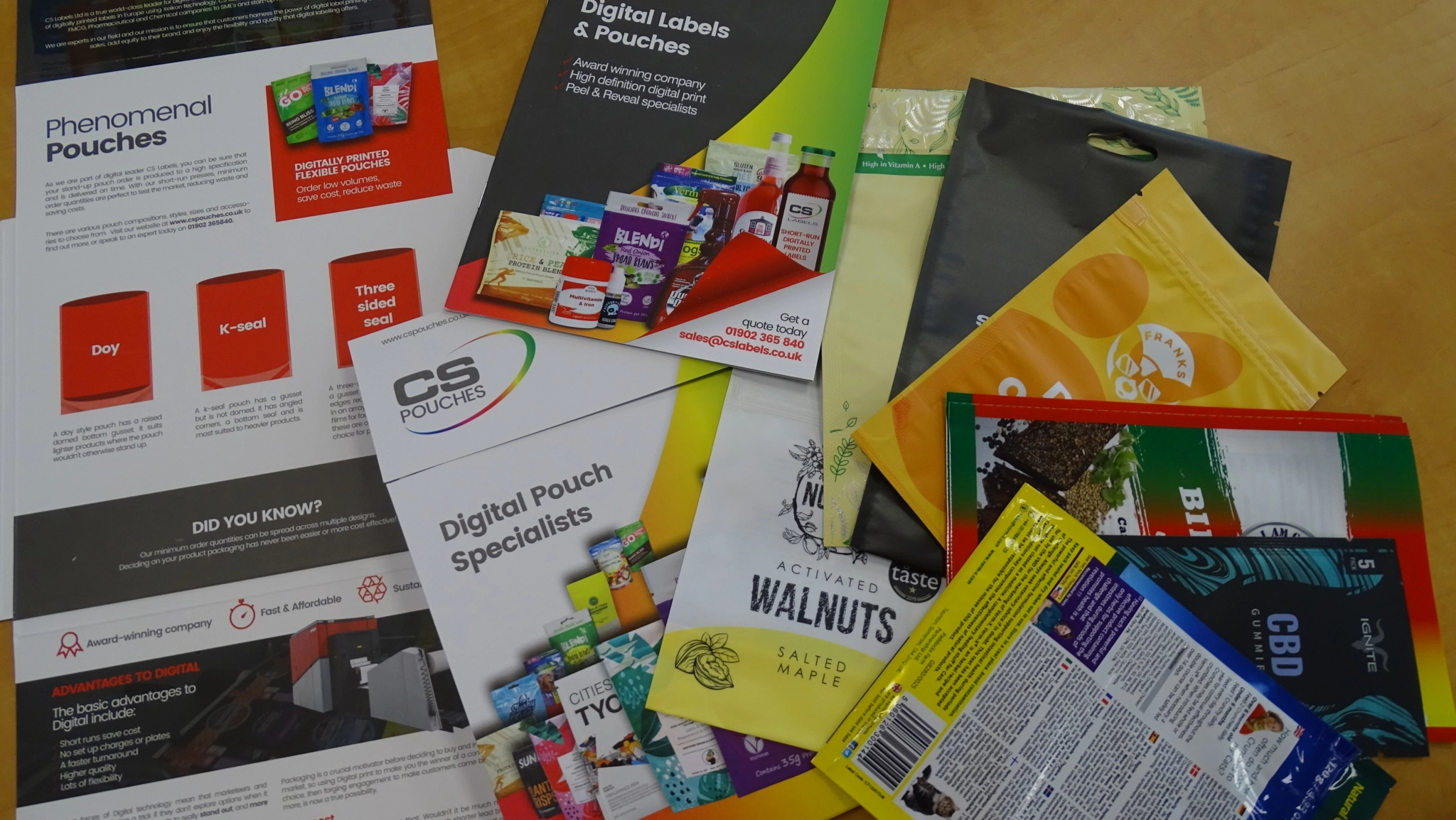 "Why wouldn't I? What's not to like! Digital gave us total flexibility, which was especially important as a start-up brand. If we want to change the imagery, or even the recipes further down the line we can! When we enter into the international market, different languages won't be a problem. This is perfect for us now.
Cost is important, but the seamless process and support we received from CS was real added value. CS were knowledgeable and helpful from start to finish. It really was nice and easy!"
To find out more about the Claude and Clarence range from JD Pet Foods, shop online, or to engage with their community, visit their website HERE
Instagram - @claudeandclarence
Facebook - @claudeandclarence
Find information about Fanatic via the Fanatic Design website.
We've been printing labels for over 40 years
Saving Time, Reducing Waste, Saving Money.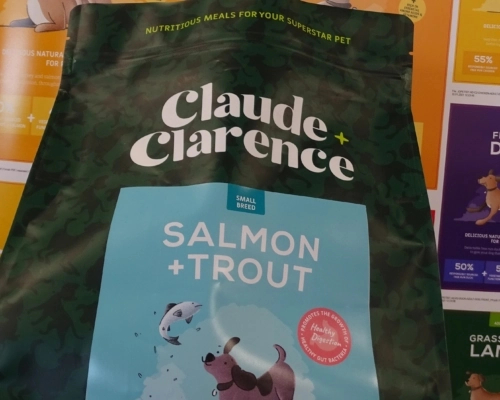 "James had a clear vision on what he wanted. On our first conversation, the artwork wasn't finalised yet, but we asked different questions to really try and understand exactly what his objectives were. It was important that we came away from those conversations being able to deliver what was in his mind's eye.".
Leigh Coady - CS Labels
"Product development in terms of brand development and packaging was new to me. I never fully appreciated the granular detail of what you have to go into! It's really important. There's so much more than just looking pretty; you have to consider the legalities of everything, including the packaging. It's about doing more than just saying what you want to say. Every statement needs to be backed up with facts. But it's the absolute right thing to do!
The pairing of GA who were our educational linchpin in this huge learning curve with our fantastic design agency (Fanatic) who delivered the entire concept of the Claude & Clarence branding along with designing all elements of the packaging too was perfect. When we started working with CS for delivering the physical labels, it all just worked so well! It felt seamless."
James Webber - Co-Founder - JD Pet Foods
How To Strike the Balance Between the Need for A Sustainable Product and Delivering What Is Needed?
One major objective for JD was to be open, honest and transparent about material selection. Their pouches were 100% PE material and by delivering a consistent PE label it enhanced its recyclability.
Often product packaging promotes recyclability, however it's quite a complex subject and often there is a lack of understanding or miscommunication to consumers which can often be misleading. James and Dom were clear that they wanted to make informed decisions and bring real credibility to their environmental considerations.
Even though PE (Polyethylene) is a plastic material, it is recyclable. CS operates an AA-rated energy efficient site, with zero-landfill using some of the most environmentally friendly technology available in the market. Offering both inkjet and (solar-power-manufactured) dry toner print technology from Xiekon, the pairing of CS and Xeikon technology makes plastic-based labels incredibly sustainable. Products have high environmental credentials which often have an advantage to a non-plastic material because the low carbon footprint is so low.
Process Doesn't Always Need to Be Complicated.
"Our account manager Leigh was fantastic. The only challenges were about understanding the physical manufacturing choices. We wanted to get it right first time, and we did! The samples we received at the beginning were fantastic; I'm glad we took the time to explore the options. We were sent an artwork proof which also allowed us truly understand what we were getting which gave us an opportunity mock up the final product too."
JD Pet Foods Project Process:
GA recommends CS Labels to JD Pet Foods
JD emailed over the enquiry - Account Manager was assigned to manage the project
CS completed discovery and samples were sent to JD for consideration and discussion
Material was selected, artwork was discussed together with best print method
Quotes were raised by CS and different volumes were discussed to best suit the new brand
Quotes and artwork were approved
CS manufactured and delivered!