It's always great to see our hard work pay off, especially when we're using some of the best technology available today.
We recently worked with Winchester Gin to create a range of stunning gin labels to really make the high-quality gin stand out for what it is. We're extremely proud to see our work feature in Digital Labels and Packaging Magazine.
What Is Color-Logic?
Color-Logic is the latest technology when it comes to making modern labels truly stand out on the shelves. Thanks to the reflective nature of these gin labels, we have been able to create a truly stunning design that also reflects the quality of the drink itself.
After pressing the labels with our Xeikon presses, we were able to embellish the existing label with Color-Logic's Metallic Color System. We decided to use this system, rather than traditional foiling, to allow us to create a truly unique and intricate design. The use of this system has also enabled us to create a greater sense of depth and make the labelling for this unique gin even more bespoke.
As well as using this technology and these techniques to create stunning gin labels for Winchester, we are also looking at ways that we might use it for a range of other product packaging.
You can read the full article below, or order the magazine for yourself. Whilst you're here, why check out a blog that we wrote recently featuring Winchester gin's unique labels in all their glory?
I am very pleased with the labels they are really gorgeous. Helen and the team as CS Labels were extremely helpful.
Paul Bowler  – Winchester Distillery.
The Future Of Label Printing Is Here!
What's more, our third new label printer also made headline news in the same publication. Over the past year, we have invested in three new machines to ensure that we can create the highest quality digital labels for all of our clients. These machines work alongside our existing presses to ensure continued customer satisfaction and constantly improve the quality of all our designs.
Our latest machine, the CX3, is the very best in its class and outputs high-quality labels 56% faster than any other Xeikon press, without losing any quality. Not only will this enable to deal with much larger orders in a shorter time scale, it can help any and all of our customers to receive their great packaging products as soon as possible. To learn more about the future of printed labels, read the article in full below.
Managing director Simon Smith said
"The Xeikon CX3 presses enable us to concentrate production of self-adhesive labels and transfer the production of our flexible packaging, stand-up pouches and heat-transfer labels to other presses "
Get In Touch With CS Labels Today For The Highest-Quality Printed Gin Labels
Here at CS Labels, we are able to provide industry-leading printing and pressing services for all kinds of businesses. Thanks to our high-quality printing and design services, we can help you to develop the perfect packaging for your unique products. Our designs can help your product to stand out on the shelves in the supermarket (or behind the bar in the case of gin labels) as well as helping to promote your brand identity through complementary design.
For more information, don't hesitate to get in touch with our professional team of printing experts today on 01902 365840. Alternatively, feel free to email us directly to discuss your printed labels requirements.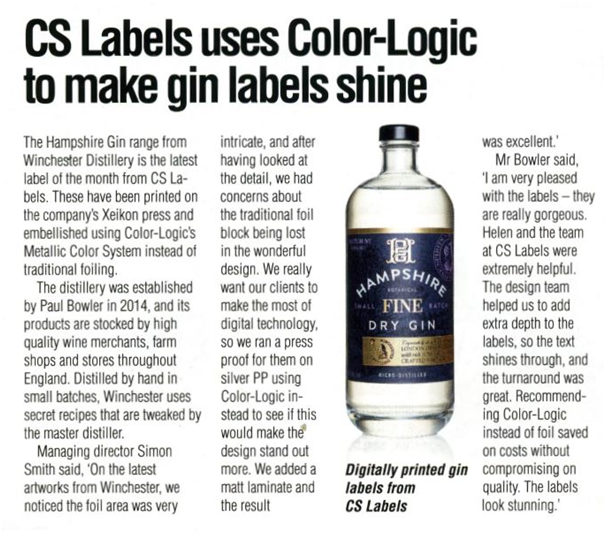 We've been printing labels for over 40 years
Saving Time, Reducing Waste, Saving Money.