Micro Breweries: Beer and Bottle Labels
CS Labels | 3rd February 2020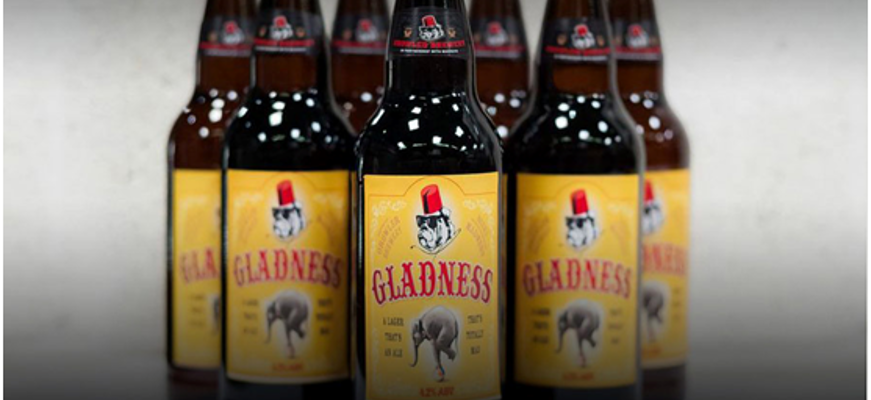 Gladness from Madness Brewing Co.
We are well aware that along with great tasting beer, one of the most effective ways to market your beer is through attractive and punchy beer labels.  As a micro-brewery, you will probably be looking for ways to develop a loyal following, especially if you're only just starting out.
Although craft beers have definitely been taking the limelight away from more popular and widely-consumed beverages, at CS Labels we believe a truly stunning bottle and label design is a great way to attract a large audience. As a start-up micro-brewer you may be fairly new to labelling, but don't worry, CS Labels are here to help your high-quality craft beers become a real success.
Craft Beer Labels needs to Attract, Excite and Stand Out
Consumers are bombarded with a variety of labels on bottles and cans. Beer labels for craft beers can really stand out on the shelf and work for you to attract new customers to your creation. As a micro-brewery, you need to make your marketing budget work smartly for you. Great label artwork, combined with accurate and high-quality printing will make your products exciting, attractive and easily noticeable on the shelf.
Labels for beer bottles are one of the main reasons that certain craft breweries, including BrewDog, have been able to build such a loyal and dedicated following. Combining simplicity with the intelligent use of colour and solid brand identity, this brewery has certainly become a force to be reckoned with in the craft beer industry.
The simple fact of the matter is that, no matter how incredible your beer might be, if you can't attract people to try it out with your label and packaging designs, then it might continue to go unnoticed.
3 Tips to Create Unforgettable Beer and Bottle Labels
1. Stand out from the crowd
There are a lot of obstacles in the way here, especially when your ideal customer is looking at the ranks of beer on the shelf behind the bar or bombarded with labels on the retail shelf. As you know, there are a lot of labels appearing in an extremely short space.
Secondly, all of your competitors will understand that their labels need to stand out as well. When it comes to craft beer, you'll find that there are multiple micro-breweries vying for the same audience. Your beer labels act as the perfect complement to the quality of your brew and can help you to gain that important initial market share. We worked with Brixton Brewery to come up with a very contemporary textured effect base paper that truly reflected their product and brand.
2. Reflect your brew's identity
You need to make sure that your labels are truly representative of the brew inside the bottle. If your labels are dark, but the beer inside is light and fruity, then the message to the customer is confusing. For stouts and ales, darker labelling can work, but then it can also be difficult to make an impact from the shelf.
However, at CS Labels we have some tips, tricks and special effects that can help your labelling shine, no matter what kind of colour pallet you prefer.
We help clients tweak their artwork to pick out key graphical areas on the bottle label, and our color-logic solution can print shiny foil type effects using a special process that doesn't use foil at all – so less cost and no need to print on the label twice. We've won awards for this kind of work.
3.  Making your beer and bottle labels memorable
You need to make your label more than attractive; you need to make it memorable. There are loads of different ways you can do this.
For example, take a look at Northern Monk's collaboration projects, which has a range of different labels designed by different artists. This is a really great story!
Versioning or special editions can also have an amazing impact; and with digital print, you can take advantage of printing various artwork designs without worrying about the high origination cost of plates.
We can digitally print various designs of your labels on the same run, and also offer personalisation or sequential/variable data without breaking the bank.
Our friends at Northern Monk produced an exclusive barley wine-style ale that was individually numbered, and used branding to engage their audience via social media. The labelling solution won the top prize in the digital printer awards.
Have any questions? Get in touch today.