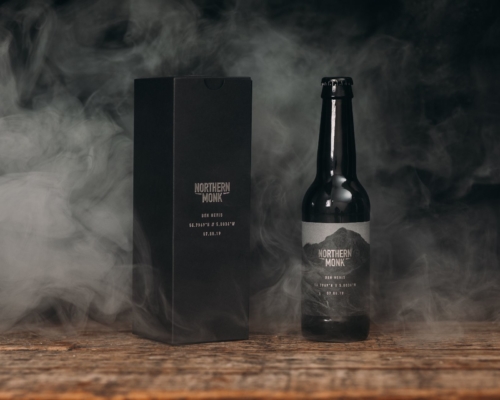 Whether you're a beer consumer, brewer, supplier, enthusiast or even critic, you'll know that the market is full with endless choices for recognisable brands, regional brewery products and craft beers, and each of them has their own composition of flavours and taste.
Be it bitter, larger, ale or stout, your favourite brew will be presented in its own unique style of can or bottle. Some breweries manufacture just one or two products, whilst others launch limited editions or seasonal ranges, but what is the common factor in all of these? They all have their identity and translating this through design execution into an eye-catching label doesn't have to be challenging.
In recent years there's been a change in the way beer brands engage with their customers. Some will only drink a particular brand, some will avoid a brand, whilst others will try everything, but there's been a shift. Consumers don't just want their beverage; they want an experience, and in many cases, the product presentation has as much attention as the product inside the can or bottle. Never has it been easier to tailor labelling to a target market, and CS are the experts at executing beer and cider labels for bottles and cans to create excitement about a new product launch.
CS works in partnership with over 200 breweries, and, as a multi-award-winning manufacturer, we're renowned within the brewery industry for being able to offer a label solution to meet your needs whether it be for bottles or cans.
CS Labels works extensively within the food and drink industry and as such our labels are compliant with all applicable food safety regulations. The toner used in our digital label printing presses is FDA approved and produces no hazardous emissions or VOC's (Volatile Organic Compounds), so you can relax and enjoy peace of mind.
Whether it be for your core range or a special one-off edition we have a team who can work with you on a one-to-one basis to ensure you find the label that will maximise your potential beer sales. With a variety of materials, finishes, sizes, and, peel and reveal labels we also aim to offer the very best value for money on the labels you purchase.
Read some Brewery case studies here to find out how we can help transform your brand.
Beer labels can be manufactured as single-ply labels, peel and reveal labels, barn-door labels, wraparound labels for every application possible e.g. bottles, cans, barrels or kegs.
With the majority of our labels being finished in either a matt, gloss or textured laminate, we can confidently say that we eliminate the common "chipping" effect that can happen during application. This ensures that your labels look as good on the bottles and cans as they did when they left the production facility.
In addition to being eye-catching, a label also needs to inform the customer; providing information they need to make an informed purchase, alongside all information required by law. For example, alcoholic beverages (such as beer), need to include the following three things:
Name and address of supplier or bottler
Country of origin (e.g. France or Blend of wines from Italy, Spain and Portugal)
Quantity of product (e.g. 33cl or 750ml)
Alcoholic Strength by Volume (if over 1.2% by volume)
Allergy declarations (See EU FIC regulations) NB Liquorice is an allergen for alcoholic labelling purposes)
Use by date (for alcoholic beverages of 10% or lower)
Are Digital Labels Food Safe?
As a business that operates within the food and drink industry, it's essential that your labels are compliant with all applicable food safety regulations. The toner used in our digital label printing presses is FDA-approved and produce no hazardous emissions of VOCs (Volatile Organic Compounds), so you can relax and enjoy peace of mind.
We supply our labels with a textured matt laminate which has a consistent finish that is more durable and robust than a textured varnish favoured by many of our competitors.
All our canning labels are finished with a laminate; this ensures we can print even the highest ink coverage safe in the knowledge that there will be no cracking.
CS Labels print digitally so slight amendments and, changes do not require new plates keeping costs down and the need for additional tooling is not required.
Talk to us about printing using our Xeikon Ink-Jet.
Look at our options on spot varnishes, special finishes and metallic substrates.