Three Great Uses For Peel & Reveal Labels
There are numerous challenges businesses may face when designing labels for your products, one technique CS Labels use to provide additional space is the use of peel and reveal labels. Here's a quick list of three great uses of this labelling technique.
1. Incorporate Multilingual Information
Certain markets have different linguistic communities living in close proximity, so it may be beneficial to include multiple languages into your product's labelling. However, space is limited on labels, so if you decide to provide the exact same information but in a different language, you'll need twice the space, and the CS Labels experts can provide this with peel and reveal labels.
2. Provide Your Customers with Additional Instructions
Some products necessitate the inclusion of additional instructions, but don't warrant the inclusion of a large instruction booklet. In these circumstances, a short list of instruction on a peel and reveal label can be very helpful to customers.
Some products which could benefit from this include but aren't limited to: paint bottles, glue, e-liquid, supplements, and food products.
3. Include Details Regarding Chemical Compositions
This is very useful for pharmaceutical products. It's essential to provide important information regarding the chemical compositions of your products in this industry; however some items are very small, such as a menthol nasal inhaler.
You could decide to print the information on the outside of the product's packaging, so that it's easy to read before purchase. However, customers will often throw away outer packaging after purchasing the product. Whilst this is still a great idea for initially informing the customer, (using the above example of a nasal inhaler) you could use a peel and reveal label on the product itself to provide important safety information regarding dosage and proper product care; that way the information is quickly available to the customer when they need it.
Why Choose CS Labels For Your Peal And Reveal Labels?
It's essential that you make the most out of the available space. So, if you find yourself in need of additional space, peel and reveal might be the labelling technique you need. However, why should you choose CS Labels?
What makes our business stand out from the competition?
Simply put, with CS Labels label printing solutions, you get quality, speed, and affordability.  We are a world class leader for digital self-adhesive printed labels and have worked with a diverse range of organisations ranging from large global companies to SME's and start-up niche businesses.  Also for those concerned about the digital labels and food safety, not only are we FDA approved, but we also have Nestle, SWISS and European approvals.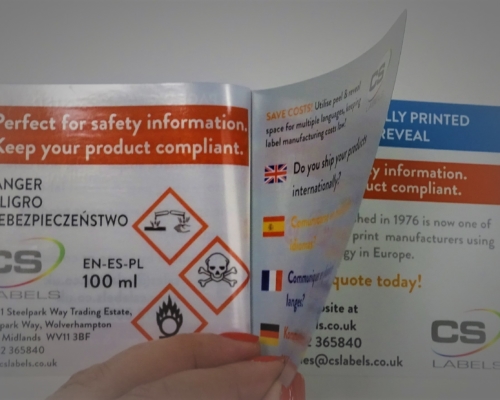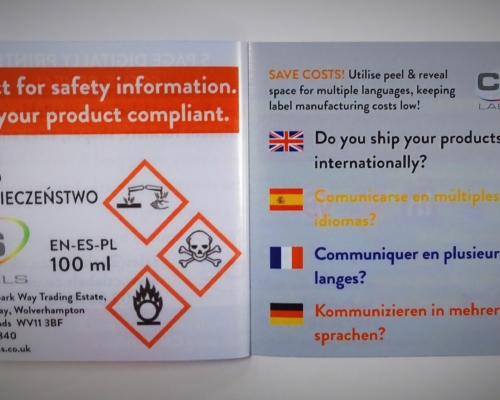 We've been printing labels for over 40 years
Saving Time, Reducing Waste, Saving Money.