CS Labels Workflow Management Strategy Reduces Overall Label Budget, Takes Job Time Down from Six Weeks to Two, Reduces Waste and Harnesses a True Hidden Power of Digital Print
In collaboration with Labelefx Ltd we have recently helped a client to think outside of the box when it comes to digital labelling. Our ongoing workflow management strategy is constantly evolving and one of the reasons we put it in place was so that we could respond to customer needs quicker, with more accuracy and less waste and the elimination of human error where appropriate.
This particular client delivers mass price point labelling bi-annually.
A large order of labels from several departments from hundreds of stores are collated in a large data file and then passed to a label provider for a quote and then production. Due to the nature of traditional print methods (and perhaps, traditional thinking), the orders are printed on separate sheets which contain the same label of the same size.  This inevitably contained a large proportion of waste labels– eg. a £35 price label in a circular shape for a certain store on a sheet; the store might only need 50% of that sheet. Orders can be large, in the past there was an order in the region of 11 million labels!
At CS Labels we hate waste; we ourselves are committed to our environmental policy and do the very best we can. It means a lot to us if we can also successfully pass this concept on to our clients.  When Labelefx contacted us with details of the clients' traditional processes, it was music to our ears. The solution was a no brainer and it was fairly shocking to see the waste that was happening in the past.
The solution: We're a believer of 'only print what you need' but in this case how could you avoid printing extras when the labels are identical in size on each sheet?..... enter our laser cutter and the vectoriser! Plus a clever piece of software that interprets the 'master spreadsheet' to process the job orders.
The vectoriser works with our laser cutter which we invested initially in 2015 and upgraded in 2016 so we could increase the speed.  Our systems print a QR barcode into the waste area of the label material when there is a shape or store change. This is then scanned by the GM laser cutter, which tells the laser which shape needs to be cut out. Thanks to this technology, we can quickly print and cut a full range of self-adhesive labels with various designs, shapes and sorts on a single roll of material and then cut this into separate sheets for separate stores. Human intervention at this stage is removed, and the technology accurately does all of the work. This particular label order ended up being around 5 million instead of 11.
The moral of the story is that digital print can do more than you think; especially when it's combined with smart thinking, leading edge technology and collaboration.
If you would like more information on how we could help you reduce waste, speed up your print orders and get your products or labels to market quicker and more accurately, please do get in touch, we would love to hear from you.
We've been printing labels for over 40 years
Saving Time, Reducing Waste, Saving Money.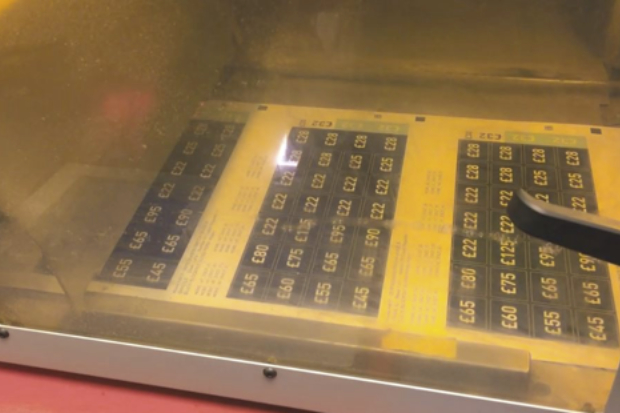 RELATED PRODUCTS
Tea & Coffee Labels