Wasted Apple Co. Cornwall has announced its 2018 batch of hand crafted Cornish apple cider and juice.  CS Labels were the chosen to produce the brand's product labels.
Mark Rudge at Wasted Apple Co. made contact via our website and our sales team got in touch swiftly to arrange a Press Proof to display how the supplied artwork provided would look mounted on the final product. For this project, we needed to use a clear-on-clear, non-cloudy material for that "no label look", often popular with bottle branding.
"The press proof enabled our customer to make a decision to change their label artwork to better suit both the branding and product packaging. The final artwork worked much better with the bottles and everyone was really pleased with how it turned out".
Andrew Mansfield – Technical Sales Director.
From initial contact, including the press-proof, approval, changes and completion, the process took under three weeks to ensure tight deadlines were met. Check out our YouTube video of the labels being created HERE
Mark Rudge at Wasted Apple was impressed with our consultative approach
"We were absolutely delighted. The move to clear was definitely right and I'm really pleased with the clarity of the print. CS Labels and the Sales team especially pulled out all the stops to get us the product on time and we are genuinely delighted. "
Wasted Apple Co. Cornwall creates apple juice and cider from discarded, unutilised apple crops, donated from Cornish orchards, large and small turning potential waste into something beautiful. Catch their More4 documentary on More4 coming soon. Learn more about them by visiting the website at www.wastedapple.co.uk or find them on social media @wastedappleco
We've been printing labels for over 40 years
Saving Time, Reducing Waste, Saving Money.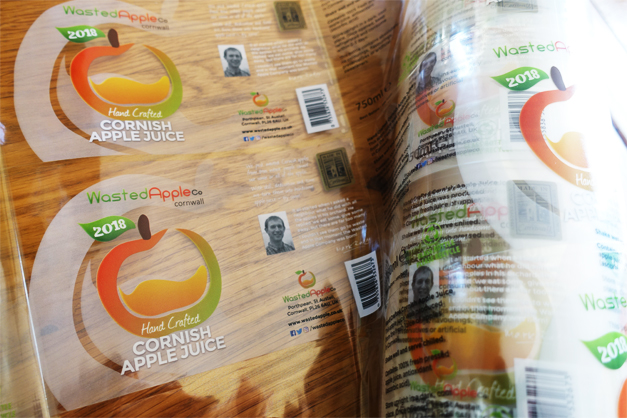 RELATED PRODUCTS
Beer Labels
RELATED PRODUCTS
Car Care Labels
RELATED PRODUCTS
Motor Oil Labels
RELATED PRODUCTS
Vehicle Tyre Labels
RELATED PRODUCTS
Automotive Battery Labels