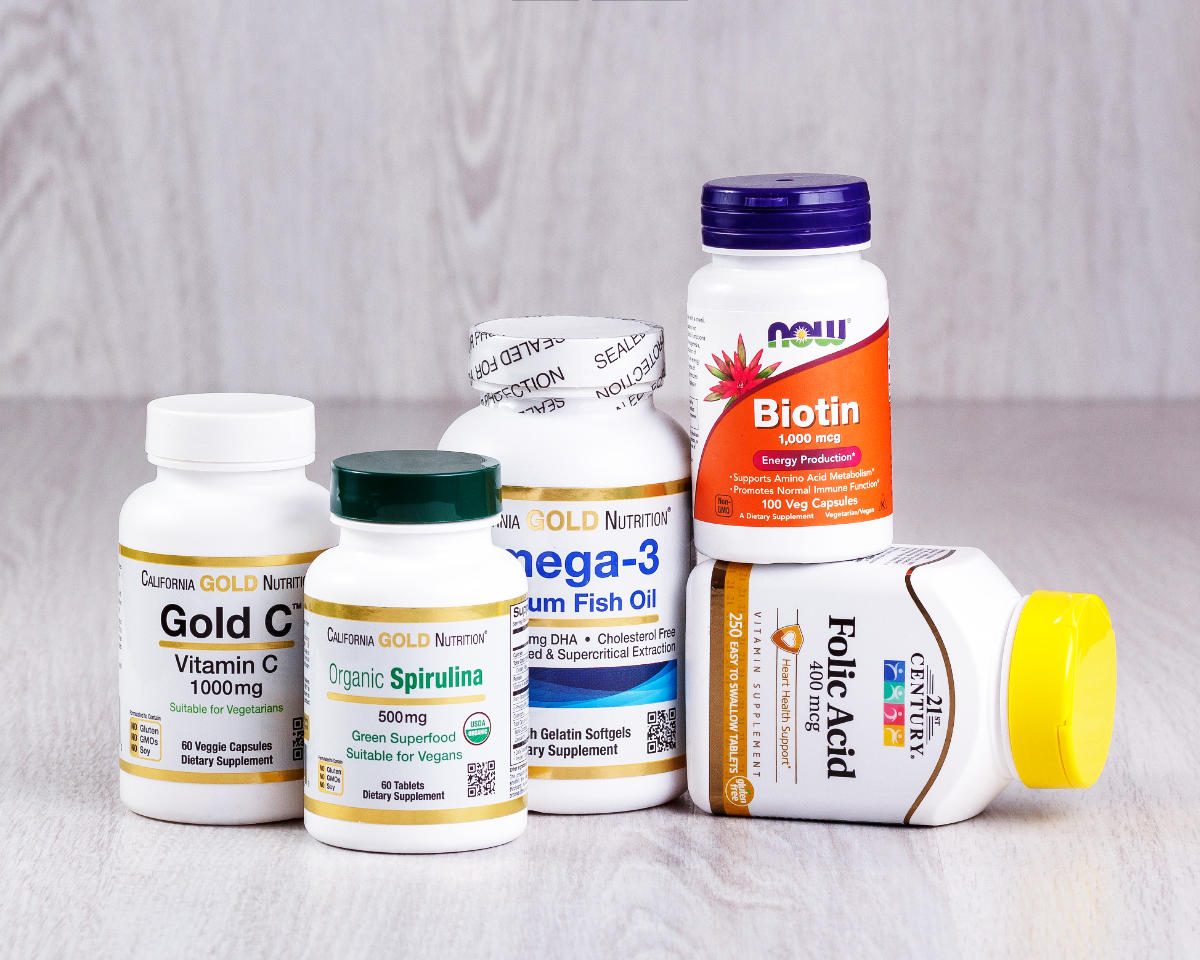 Vitamin and Supplement Labels
Vitamins are nutrients taken from fruit and vegetables etc that the body needs but cannot create itself. Supplements are usually a combination of vitamins or a product such as fibre that adds additional nutritional value to a diet that may be lacking. Either way they both have health and/or lifestyle benefits, and can be consumed in many different ways, for example tablets, drinks, and powders. All of which require labelling giving the required information about the product.
Vitamin and supplement labels usually need to include the following:
Percentage of the daily recommended value

A detailed list of ingredients, all displayed in the same unit type

Manufacturing date and batch code

Manufacturer details and contact information

Any warnings regarding any adverse effects

Be labelled clearly with "Food Supplement"
Depending on your branding, the style of label will differ. For example, a vitamin or supplement targeted at men over 60 may be large, with clean bold text with primary colours, whereas a supplement or vitamin targeted at a child may be bright, colourful with images or graphics, possibly even recognisable characters to help the child's engagement.
Ultimately, it's important that your label is good quality, easy to read and communicates the information held on it effectively. At CS, we print everything in high definition, so why not include a good graphic, picture or really use the labels space with easy-to-read text. If your range includes different products, sizes, or you're looking to test the market, our digital printed labels are perfect for you. Speak to a member of our team today by using our quick and easy contact form below.
Vitamin and Supplement Labels Technical Specifications
Material and construction choices vary and can be made from white, clear or silver Polypropene (PP), a white PE (Polyethylene) and also different matt or gloss paper types too. You may opt for single-ply labels, double-sided labels, or even peel and reveal if there's a high volume of information that simply won't fit on the front.
If your vitamin or supplement is part of a premium brand, it may be that your packaging is more high-end and you need your label to be consistent, you could opt for a label embellishment such as foiling, embossing, raised or textured varnishes to add an additional sensory stimulant. These embellishments can deliver a richness to your product label giving added value as the perception of the product to new consumers is always judged by its appearance. So, by investing in the outer appearance of the label can increase buyer engagement.
Vitamin or Supplement Label FAQ's
Depending on what region your product is being consumed, it's always best to check, but generally serving instructions is arguably the most important element.
Many do, but your labels need to include the legislative information regardless to keep your product compliant.
Speak to one of our team advising us of your packaging material type, or if it's easy enough to do, send us a sample and we can have a look and explain what it's happening, and what you need to change to stop it from happening.
It depends on where your product is being used. It's always a great idea to tailor your product language for the region in which it's being sold.
CS also manufacture tags and shelf strips as well as window decals. Want to know more? Get in touch with one of the team today.