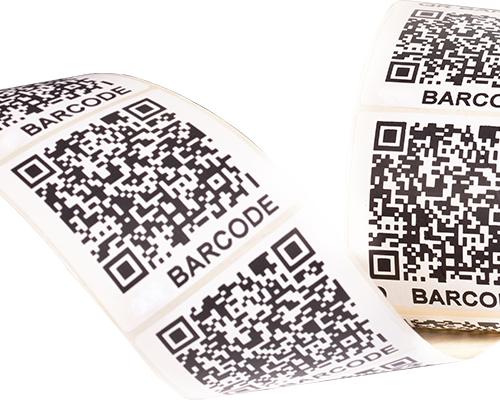 In distribution and logistics environments, labelling is one of the most important considerations for the environment and everything that moves through it. From equipment, products, instructions and general identification, labels keep everything organised. Even if you need to label containers, pallets, boxes, crates etc, there is always a requirement!
In warehouse environments, the vast majority of racking is filled with inventory, all of which will be labelled. Often with a barcode or asset label. These labels are usually scanned by pickers and their associated systems can check levels of stock with a click of a button.
Another advantage to labelling in distribution and logistics environments is that it's not always often to have visibility of the product stocked. It might be that it's not built for its intended use, or it's packaged in a plain box.
Labels are a perfect way to identify and differentiate products and when they are moved, the same labels can keep track of their whereabouts. Think about big retail brands like Ikea or Argos. Every product, container and shelf are labelled. It's essential for both business and customer.
Most labels used in distribution and logistics environments are consistent in shape, size and colour. Traditionally, barcode and asset labels are white, with black text. This does not mean that colours can't or shouldn't be used. Some environments use different label colours and shapes as unique identifiers.
With barcode and asset labels, it's important not to use duplicates. This is where digital print proves its suitability here. By using variable data, the system can deliver what is required at high quality, making sure that the label scans!
Another consideration to the label specification is the type of finish and adhesive required. Labels in distribution and logistic environments such as warehouses, stacked on pallets, racking, in lorries and beyond, need to be strong enough to withstand being knocked, and potentially be weather-proof, for example, if labels are intended to be uses in chiller environments, the right adhesive is a must!
Whilst labels can be sourced relatively cheaply, it's worth investing in quality labels to ensure they are still in place for the entire duration of their required use.
Racking labels are a great way to organise warehouse environments. They can be printed and cut to the right width and length.
If you're a distribution, logistics or warehouse manager, there's not much more satisfying than a well-organised working environment. When everything is correctly labelled, it takes out the guesswork which will of course increase productivity and efficiency.
Why Are CS Digital Labels Perfect for Distribution and Logistics Environments?
You can print all sorts of labels in different shapes, sizes, colours and include a mixture of information or even variable data at no extra cost per type!
We print in high-definition - if you need to print labels in huge or tiny text, you can count on our quality digital print.
We understand that things change! The time and cost to change and reprint labels with new information, different colours etc is never a problem!
Our minimum order requirements are really low! If you don't need 10,000 labels, we won't expect you to order that many!
Distribution & Logistics FAQ's
We create labels to your specification! Stock cutters can be used, or ordered. Alternatively, if you have a selection of shapes and sizes, laser cutting may be more suitable.
You may need to use a more suitable material or adhesive. Speak to one of our team who can best advise you.
At CS we can support you with your needs. If your data is already included within your artwork, we can work with it. If you need us to source variable data for you, speak to our team so that we can better understand your requirements so that our solution best fits.
We work with high-resolution PDF files.