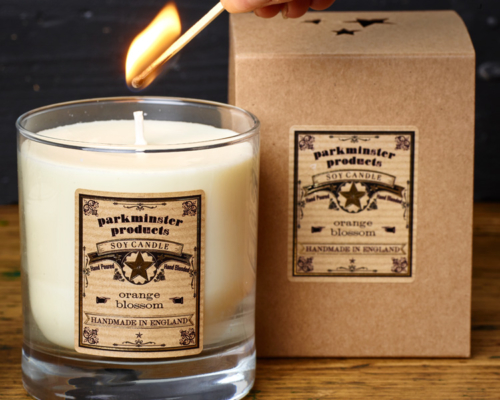 Health & Lifestyle Labels
There are many well-known candle brands, and even more of candle-products, such as traditional chime candles, jar candles, tealights, pillar candles, taper candles, wicks, votives, tinned candles, potted candles, multi-wicked candles, wax melts, the list is almost endless; and each individual type requires its own label. It doesn't matter if you're a large brand or a boutique candle maker, labels are part of your product presentation.
One of the biggest, if not THE biggest consideration for your candle label will be its packaging. Candles in a jar range massively in retail price and can vary from as little as less than £1 up to and over £100's, so why is the candle label important? Well, it's about communicating the high quality and value before the candle has even been lit!
High-quality labels often have either a luxury feel or at the very least the perception of an "expensive" product. Embellishments such as foiling, textured varnishes or using special material stock to give that sense of quality and luxury can give real added value. There are alternatives of course, with digital print, we can mimic craft materials in the design and print and even deliver metallics which can be more cost-effective than traditional foiling methods.
Why not send us your artwork for us to chat about? We can explain what can be done with your budget to make your candle product really stand out and catch the eye on a shelf or page full of other brands, styles and products.
The universal requirement for selling candles is to include the legally required information. This is to support both product and consumer safety. All candle products require a primary label giving information about the product name, size, scent, burning time etc. Then there needs to be safety information supplied too, otherwise known as CLP information.
CLP stands for Classification, Labelling and Packaging. It is a European regulation, (although there are comparable regulations in other regions) that gives information on the standard safety warnings for all candles, wax melts and candle products that are warmed or burnt.
The information required is:
Manufacturing company details - name and address
Name of the product and scent name
Allergen information
Hazard warning statement
Hazard Pictograms
Candle Labels Technical Specifications
Deciding what material to use for your candle label comes with a selection of considerations such as:
What product is the label for?
What will the label be stuck to?
Does it need to be heat resistant?
It's important to seek advice from professionals who understand the legalities around your candle label. There are specific adhesives that are more durable when exposed to heat, so if your label is being stuck directly onto a jar candle, it's not as straightforward as a label going into a packet of wax melts where the wax is removed from the packaging before being used. Speak to our team to ask about the best material and adhesive.
Adhesives - Although wax surfaces have a very low adhesive susceptibility (meaning that even a permanent adhesive can peel off without leaving residue) if you're using a jar, or a strip wrap, you need to consider if the area in which the label is stuck to needs to be left unaffected or not. Candles that are used in glass containers need an adhesive that isn't reactive to high temperatures to prevent peeling caused by heat.
Not currently, but if the candle contains any hazardous materials, it does require CLP labelling (Classification, Labelling and Packaging). Both the wax and the fragrance must be considered when deciding if CLP is required for your candles.
Yes, CLP information is a legal requirement for candle labels. See more information above.
If you are planning to sell them, you need a CLP compliant candle label
There are various methods to employ gold on your labels. We can opt for foiling, or depending on your label material we can print gold. Speak to our team for advice.